art, nature, respect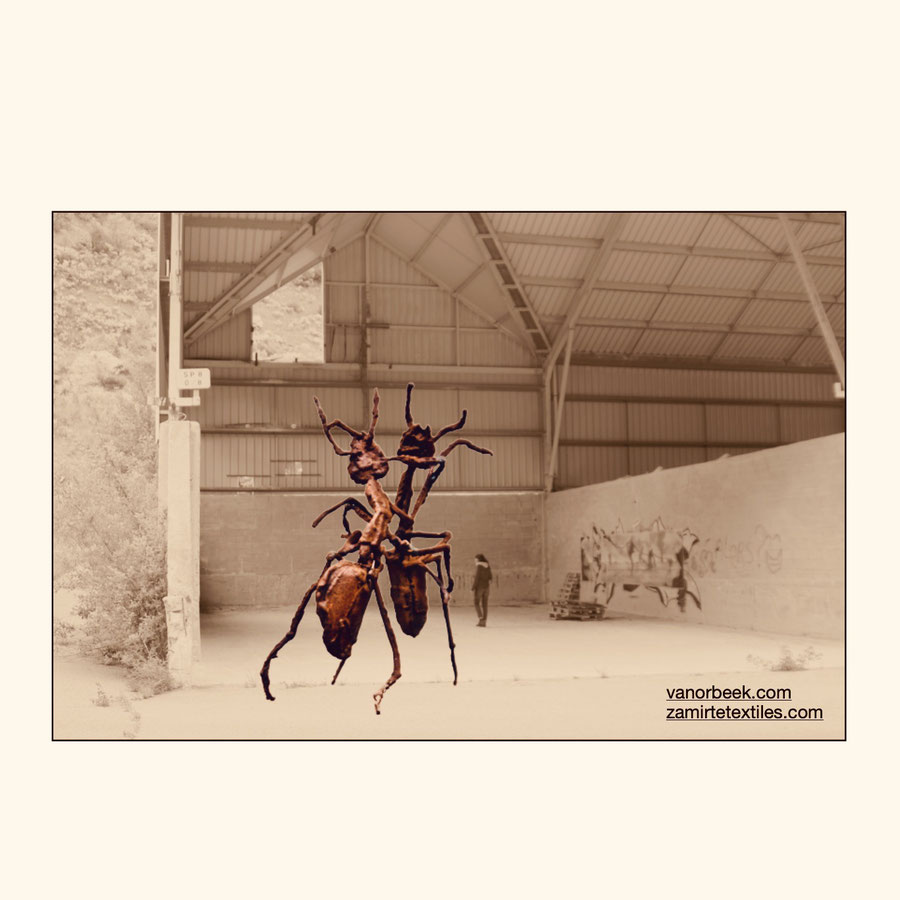 Ik ben sinds 1999 zelfstandig beeldhouwer en maak enkel werken die dialogeren met de natuur. Toen het nog om insecten ging, was dat uiteraard voor veel mensen duidelijk. Mijn filosofie is al heel mijn leven hetzelfde, en gelukkig ben ik zelfs daar ook in geëvolueerd.
Het grappige is dat wanneer ik tegen mensen zeg dat ik letterlijk "geen vlieg (insect) kwaad doe", ze dit "normaal" vinden en respecteren.
Sinds ik zeg vegan en antispéciste te zijn, beschouwen de meeste mensen mij als té radicaal.
Ik vind zelf dat het radicaal juist is en in de lijn ligt met hoe ik altijd al over de natuur, de dieren en onze leefomgeving heb gedacht.
Ik ben al 1,5 jaar aan het "werk" aan een project om een openbaar beeldenpark met textiele kunst (Natalie Magnin)  te kunnen openen.
Ik ben "veeleisend" zonder het evenzeer te zijn. Ik heb een woonst, een terrein en ateliers nodig. Huren wil ik met een contract van 99 jaar, haha, kopen wil ik zonder geld te hebben, een nog grotere haha. Alles is mogelijk en ik geef het nog even tijd.
Kunst en Natuur, Kunst en Delen, Kunst en Bewustwording (voor deze beiden) zullen de pijlers van het project zijn.
Een plek die ook mogelijkheden kan bieden voor andere artistieke projecten, of het nu gaat om dans, muziek of tijdelijke groepstentoonstellingen... 
Tevens zal de plaats een Insect-Herstel-Centrum worden. Een plek waar insecten niet hoeven te "vrezen" voor hun leven door het toedoen van de mens.
Bloemen, planten, struiken, bomen, gezond bodemleven, ... zullen er voor zorgen dat de biodiversiteit zich herstel op dat kleine stukje van de insecten-wereld !!!
Ik woon in de Occitanie, Zuid-West Frankrijk. 
---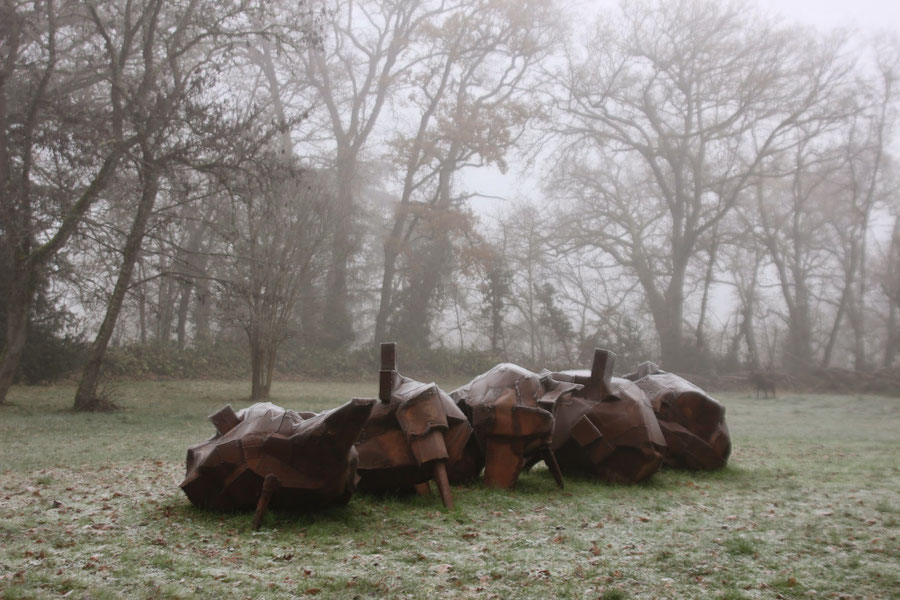 Je suis sculpteur indépendant depuis 1999 et je ne crée que des œuvres qui dialoguent avec la nature. Lorsqu'il s'agissait encore d'insectes, c'était bien sûr évident pour beaucoup de gens. Ma philosophie a été la même toute ma vie, et heureusement, j'ai même évolué dans ce domaine.
Le plus drôle, c'est que lorsque je dis aux gens que je ne fais littéralement "pas de mal à une mouche (insecte)", ils trouvent cela "normal" et le respectent.
Depuis je dis que je suis vegan et antispéciste, la plupart des gens me considèrent comme trop radical. Je pense qu'il est radicalement correct et conforme à la façon dont j'ai toujours pensé la nature, les animaux et notre environnement.
Depuis 1,5 ans je "travaille" sur un projet de créer un parc de sculptures ouvert au public avec des ARTS Textiles (de Natalie Magnin: www.zamirtetextiles.com).
Je suis "exigeant" sans l'être autant. J'ai besoin d'une maison, d'un terrain et des ateliers. Je veux louer avec un contrat de 99 ans, haha, ou acheter sans avoir d'argent, un encore plus gros, haha. Tout est possible et j'y vais encore consacrer un peu de temps.
Art et Nature, Art et Partage, Art et Sensibilisation (pour les deux) seront les piliers du projet.
Un lieu qui peut également offrir des possibilités pour d'autres projets artistiques, qu'il s'agisse de la danse, de la musique ou d'expositions collectives temporaires... 
L'endroit deviendra également un centre de récupération pour les insectes. Un endroit où les insectes n'ont pas à "craindre" pour leur vie à cause des actions de l'homme.
Des fleurs, des plantes, des buissons, des arbres, un sol sain, ... s'assurera que la biodiversité soit restaurée sur ce petit morceau du monde des insectes ! !!
Je vis en Occitanie, dans le sud-ouest de la France. 
---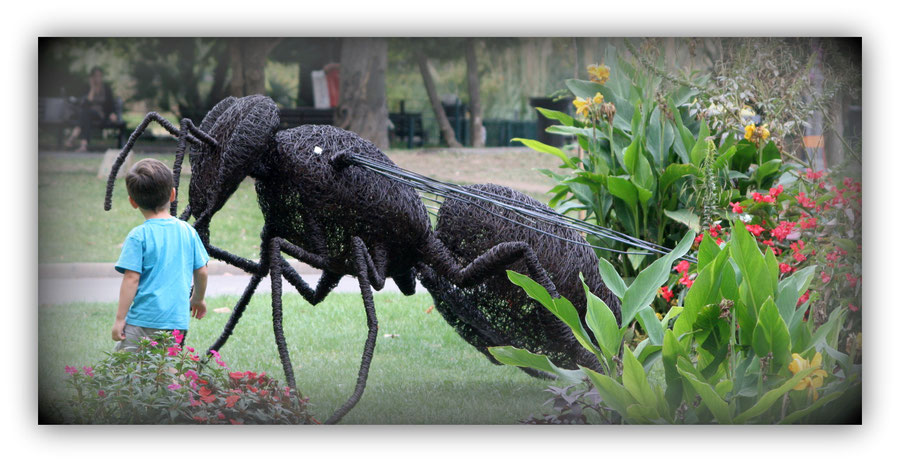 I have been a freelance sculptor since 1999 and I only create works that interact with nature. When it was still insects, it was of course obvious to many people. My philosophy has been the same all my life, and fortunately I have even evolved in this field.
The funny thing is that when I tell people that I literally "don't hurt a fly (insect)", they find it "normal" and respect it.
Since I say I am vegan and anti-speciesist, most people consider me too radical. I think it is radically correct and in line with the way I have always thought about nature, animals and our environment.
For the last 1.5 years I have been "working" on a project to create a sculpture park open to the public with Textile ARTS (by Natalie Magnin: www.zamirtetextiles.com).
I am "demanding" without being so demanding. I need a house, land and workshops. I want to rent with a 99 year contract, haha, or buy with no money, an even bigger haha. Everything is possible and I'm going to spend some more time on it.
Art and Nature, Art and Sharing, Art and Awareness (for both) will be the pillars of the project.
A place that can also offer possibilities for other artistic projects, be it dance, music or temporary group exhibitions... 
The place will also become a recovery centre for insects. A place where insects do not have to "fear" for their lives because of human actions.
Flowers, plants, bushes, trees, healthy soil, ... will make sure that biodiversity is restored on this little piece of the insect world!
I live in Occitania, in the southwest of France.