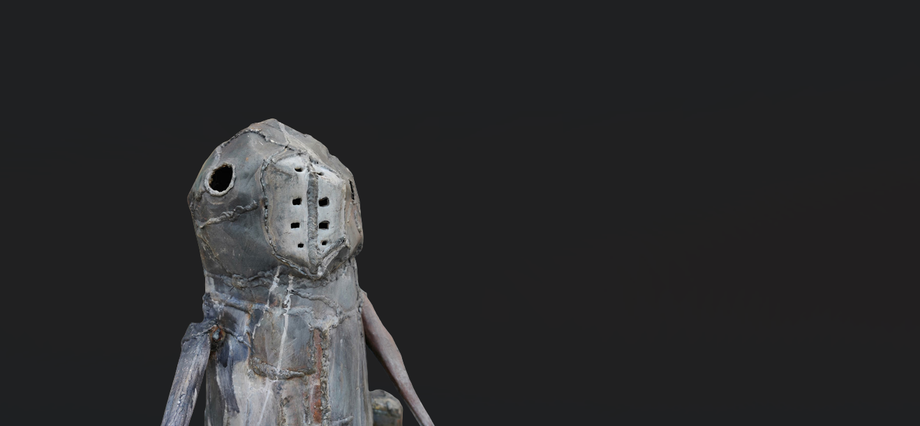 Since 1999, I have been an independent sculptor. This means that I report my annual income to the taxes and pay social contributions on what I earn. I didn't become an artist solely for the sake of art, but because I wanted to talk about something I find important: insects (nature), biodiversity, and the environment. I also longed for an independent life. I have neither god nor master nor do I play either myself 
***
People who are not dependent on their art often don't realize how difficult it can be.
Here, I would like to explain that.
Firstly, there is the aspect of what you do. Paintings are more socially accepted than sculptures. Everyone has something hanging on their walls, but not everyone has the habit or space to place a sculpture. And I'm not talking about cheap trinkets you find at flea markets. I'm talking about unique pieces made by someone's hands.
The material from which a work is made also plays a role. Marble or bronze are considered more precious and artistic than rusty iron (a reasoning that I partially agree with).
Then we have the place where you sell your art. If it's through a gallery, you have to get in first. Gallery owners are (understandably) selective. If you exhibit somewhere, you often have to go through a jury (which I personally prefer), but the outcome is not always positive. "Despite the quality of your work, we regret to inform you that your work was not selected" is a familiar sentence to me.
Suppose you do participate in an exhibition, then there are often costs involved, such as transportation, accommodation, and restoration. And if you sell, usually between 30 and 50% of the money is the commission that goes to the organizers (who do not always organize well by the way, lack of publicity, for example).
How do you then determine the price of a work, knowing that you have to give a considerable percentage away? If I ask the same as I would normally do in my own studio, I would make a loss. If I double the price, it's often too expensive. So I always try to find a middle ground.
The location where you exhibit obviously makes a big difference. I live in one of the poorest regions of France, so not in Berlin, London or New York
And then come the visitors. Are they really looking at my work, or are they just "passers-by"? Sometimes someone stops at a piece. Should I be my friendly self, ask a question, make a joke? Or should I do nothing? Oh, bad weather! Then hardly anyone comes. Oh, too nice weather! Then everyone goes to the beach.
Ah, someone is looking at my work again. Let's chat for a moment. "Are you familiar with my work?" is usually what I ask. Casual conversation, talking, talking. Ah, the friend of your neighbor's father is also a sculptor. Do I really have to look at those bad photos on that phone...?
After talking to that person for 5 minutes, I realize that I didn't have time to talk to other potential interested clients because I was listening to recorded lion roars in Tanzania on someone's phone...
Oh, you find my sculptures beautiful, good, interesting, or whatever. But your partner isn't here, I understand. Ah, there's your partner. Ah, one likes it, the other doesn't. Ah, you just spent a lot of money on home repairs. Yes, the dentist has become expensive nowadays. Inflation, yes yes, I know, since the euro... Oh, next week you're going on vacation. The children are still at home. The car is broken. You don't have space to place a sculpture, your house is already full, haha. No, not everyone likes iron, that's true. You're too old to buy art. You're not here to buy art, of course, just looking is also allowed (that's what most people do).
Yes, yes, no, of course not. I understand. I don't always understand either...
But still, "a bricklayer gets his money at the end of the month," I say. "an artist not necessarily."
Yeah, yeah, this is definitely a beautiful place to exhibit. Yes, I'm lucky. Oh, it's more than just "having fun" you know, it's often physically demanding work too. It's my job, my only occupation... Do I "sell"? As I said, it has been my profession for over 22 years... No, my wife, who is also an artist, is even less commercial than me.
Yes, okay, thank you, no problem, until next time, ciao, enjoy your vacation...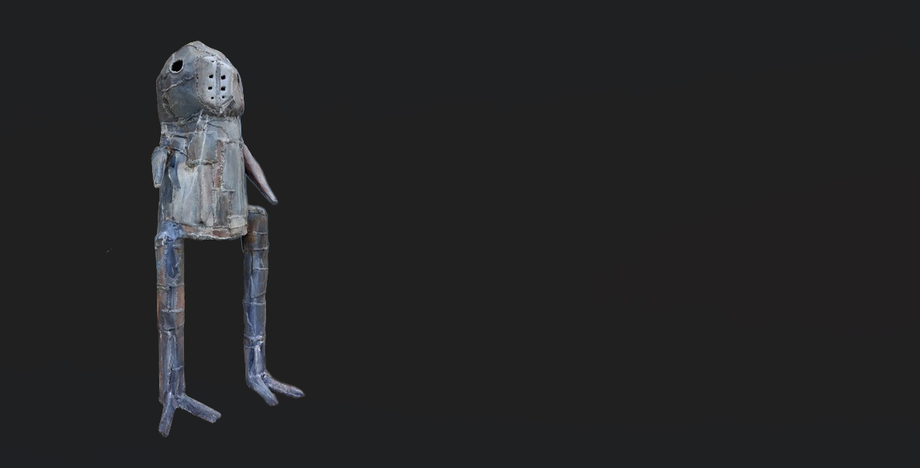 "Je ne vends rien, mais tout est à vendre"
Depuis 1999, je suis sculpteur indépendant. Cela signifie que je déclare mes revenus annuels aux impôts et paie des cotisations sociales sur ce que je gagne. Je ne suis pas devenu artiste uniquement pour l'art, mais parce que je voulais parler de quelque chose qui me tient à cœur : les insectes (la nature), la biodiversité et l'environnement. Je désirais également une vie indépendante. Je n'ai ni dieu, ni maître, et je ne suis pas un employeur (sans pitié).
Les personnes qui ne dépendent pas de leur art ne réalisent souvent pas à quel point cela peut être difficile.
Ici, je voudrais expliquer cela.
Tout d'abord, il y a l'aspect de ce que vous faites. Les tableaux sont plus acceptés socialement que les sculptures. Tout le monde a quelque chose accroché au mur, mais tout le monde n'a pas l'habitude ou l'espace pour placer une sculpture. Et je ne parle pas de babioles bon marché que l'on trouve sur les marchés aux puces. Je parle de pièces uniques réalisées par les mains de quelqu'un.
Le matériau à partir duquel une œuvre est réalisée joue également un rôle. Le marbre ou le bronze sont considérés comme plus précieux et artistiques que le fer rouillé (un raisonnement que je partage partiellement).
Ensuite, nous avons l'endroit où vous vendez votre art. Si c'est par l'intermédiaire d'une galerie, vous devez d'abord y entrer. Les galeristes sont (compréhensiblement) sélectifs.
Si vous exposez quelque part, vous devez souvent passer par un jury (ce que je préfère personnellement), mais le résultat n'est pas toujours positif. "Malgré la qualité de votre travail, nous regrettons de vous informer que votre œuvre n'a pas été sélectionnée" est une phrase familière pour moi.
Supposons que vous participiez à une exposition, des frais sont souvent engagés, tels que le transport, l'hébergement et la restauration. Et si vous vendez, généralement entre 30 et 50 % de la somme revient aux organisateurs (qui n'organisent pas toujours bien d'ailleurs, manque de publicité, par exemple).
Comment déterminez-vous alors le prix d'une œuvre, sachant que vous devez en donner un pourcentage considérable ? Si je demande autant que je le ferais normalement dans mon propre atelier, je perds de l'argent. Si je double le prix, c'est souvent trop cher. Je cherche donc toujours un juste milieu.
Le lieu où vous exposez fait évidemment une grande différence. Je vis dans l'une des régions les plus pauvres de France, donc pas à Berlin, Londres ou New York.
Et puis viennent les visiteurs. Regardent-ils vraiment mon travail ou sont-ils simplement des "promeneurs" ? Parfois, quelqu'un s'arrête devant une œuvre. Dois-je aller poser une question, faire une blague ? Ou dois-je ne rien faire ? Oh, mauvais temps, il pleut ... alors presque personne ne vient. Oh, trop de soleil ... alors tout le monde va à la plage.
Ah, quelqu'un regarde mon travail. Discutons un peu. "Connaissez-vous mon travail ?", c'est généralement ce que je demande. Une conversation décontractée, parler, parler. Ah, l'ami du père de votre voisine est également sculpteur. Est-ce que je dois vraiment regarder ces mauvaises photos sur ce téléphone... ?
Après avoir parlé à cette personne pendant 5 minutes, je réalise que je n'ai pas eu le temps de parler à d'autres personnes intéressées parce que j'écoutais des rugissements de lions en Tanzanie sur le téléphone de quelqu'un...
Oh, vous trouvez mes sculptures belles, bonnes, intéressantes, ou peu importe. Mais votre partenaire n'est pas là, je comprends. Ah, voilà votre partenaire. Ah, l'un aime, l'autre n'aime pas. Ah, vous venez de dépenser beaucoup d'argent pour des réparations à la maison. Oui, le dentiste est devenu cher de nos jours. L'inflation, oui oui, je sais, depuis l'euro... Oh, la semaine prochaine, vous partez en vacances. Les enfants sont encore à la maison. La voiture est en panne. Vous n'avez pas d'espace pour placer une sculpture, votre maison est déjà pleine, haha. Non, tout le monde n'aime pas le fer, c'est vrai. Vous êtes trop vieux pour acheter de l'art. Vous n'êtes pas là pour acheter de l'art, bien sûr, regarder simplement est aussi autorisé (c'est ce que font la plupart des gens).
Oui, oui, non, bien sûr que non. Je comprends. Non, c'est vrais, ça je ne comprends pas toujours non plus... mais quand même, "un maçon reçoit son salaire à la fin du mois", je dis. "un artiste pas nécessairement."
Oui, oui, c'est certainement un bel endroit pour exposer. Oui, j'ai de la chance. Oh, ce n'est pas juste "s'amuser" vous savez, c'est souvent un travail physiquement exigeant aussi. C'est mon métier, ma seule occupation... Est-ce que je "vends" ? Comme je l'ai dit, c'est ma profession depuis plus de 22 ans ... Non, ma femme, qui est aussi artiste, est encore moins commerciale que moi.
Oui, d'accord, merci, pas de problème, à la prochaine, ciao, profitez de vos vacances...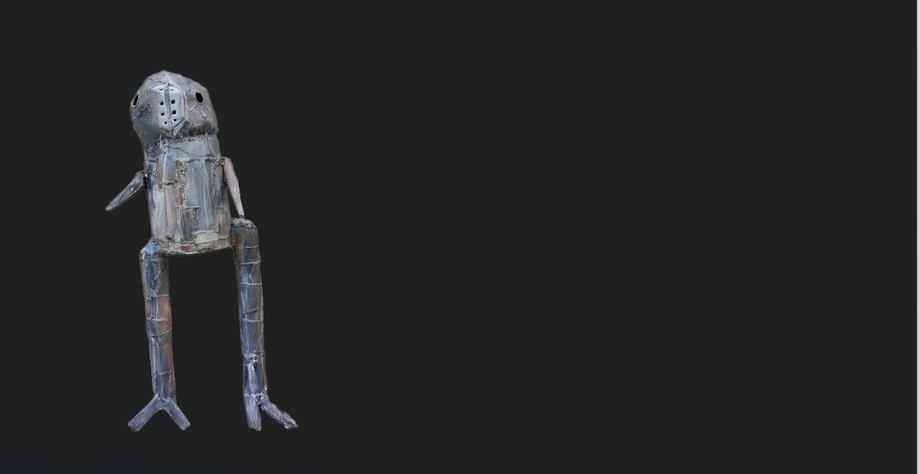 "Ik verkoop niets, maar alles is te koop"
Sinds 1999 ben ik een zelfstandig beeldhouwer. Dat betekent dat ik mijn jaarlijkse inkomsten aan de belastingen rapporteer en sociale lasten betaal over wat ik verdien. Ik ben geen kunstenaar geworden puur voor de kunst, maar omdat ik wil praten over iets wat ik belangrijk vind: insecten (de natuur), biodiversiteit en het milieu. Ook verlangde ik naar een onafhankelijk leven. Ik heb geen god, meester noch ben ik zelf een meedogenloze werkgever.
***
Mensen die niet afhankelijk zijn van hun kunst beseffen vaak niet hoe moeilijk het kan zijn.
Hier wil ik dat even toelichten.
Ten eerste is er het aspect van wat je doet. Schilderijen zijn maatschappelijk meer geaccepteerd dan beeldhouwwerken. Iedereen heeft wel iets aan de muur hangen, maar lang niet iedereen heeft de gewoonte of de ruimte om ook een beeldhouwwerk te plaatsen. En dan heb ik het niet over goedkope prullen die je op rommelmarkten vindt. Ik heb het over vaak unieke stukken, gemaakt door iemands handen.
Het materiaal waaruit een werk is gemaakt, speelt ook een rol. Marmer of brons worden als kostbaarder en kunstzinniger beschouwd dan verroest ijzer (een redenering die ik tot op een bepaalde hoogte ook wel volg).
Dan hebben we de plaats waar je je kunst verkoopt. Als dat via een galerij is, moet je eerst binnen zien te geraken. Galeriehouders zijn (begrijpelijkerwijs) selectief.
Als je ergens exposeert, moet je vaak ook om een jury heen (wat ik persoonlijk wel verkies), maar de uitkomst is niet altijd positief. "Ondanks de kwaliteit van uw werk moeten wij u spijtig genoeg melden dat uw werk niet werd geselecteerd" is een bekende zin voor mij.
Stel dat je dan wel deelneemt aan een tentoonstelling, dan komen daar vaak kosten bij kijken, zoals transport, verblijf en restauratie. En als je verkoopt, gaat er meestal tussen de 30 en 50% commissie naar de organisatoren (die niet altijd even goed organiseren trouwens, geen of te weinig publiciteit maken bijvoorbeeld).
Hoe bepaal je dan de prijs van een werk, wetende dat je er een aanzienlijk percentage van moet afstaan? Als ik net zoveel vraag als ik normaal in mijn eigen atelier zou doen, dan maak ik er verlies op. Als ik de prijs verdubbel, is het vaak te duur. Dus ik probeer altijd een gulden middenweg te vinden.
De locatie waar je exposeert maakt natuurlijk een groot verschil. Ik woon in één van de armste regio's van Frankrijk, dus niet in Berlijn, Londen of New York.
En dan komen de bezoekers. Kijken ze echt naar mijn werk, of zijn het gewoon "wandelaars"? Soms blijft iemand staan bij een werk. Moet ik dan mijn sympathieke zelf zijn, een vraag gaan stellen, een grap maken? Of moet ik juist niets doen? Oei, slecht weer vandaag,dan komt er bijna niemand. Oei, te mooi weer vandaag, dan is iedereen naar het strand.
Ah, er is weer iemand die naar mijn werk kijkt. Toch maar even babbelen dan. "Kent u mijn werk?" vraag ik meestal. Gezellig praten, praten. Ah, de vriend van uw buurvrouw haar vader is ook beeldhouwer. Moet ik nu echt naar die slechte foto's op die telefoon kijken...?
Na 5 minuten met die persoon gepraat te hebben, realiseer ik me dat ik geen tijd had om met andere mogelijke geïnteresseerden te praten, omdat ik naar leeuwengebrul in Tanzania aan het luisteren was op iemands telefoon...
Oh, u vindt mijn beelden interessant, maar uw partner is er niet bij, ik begrijp het. Ah, daar is uw partner. Ah, de ene vindt het mooi, de andere niet. Ah, u hebt net veel geld uitgegeven aan reparaties in huis. Ja, de tandarts is tegenwoordig duur geworden. Inflatie, ja ja, ik weet het, sinds de euro, ...  Och, volgende week gaan jullie op vakantie. De kinderen zijn nog thuis. De auto is kapot. Jullie hebben geen ruimte om een beeld plaatsen, uw huis is al vol, haha. Neen, niet iedereen houdt van ijzer, dat is waar. U bent te oud om nog kunst te kopen. U bent hier niet om kunst te kopen, tuurlijk dat gewoon kijken ook mag (dat doen de meesten).
Ja, ja, nee, natuurlijk niet. Ik begrijp het. Ik ook niet altijd hoor...
Maar toch, "een metselaar krijgt zijn geld aan het einde van de maand," zeg ik. "een kunstenaar niet per se."
Jaahaaa, dit is zeker een mooie plek om tentoon te stellen. Ja, ik heb geluk. Oh, het is meer dan alleen maar "mij amuseren" hoor, het is vaak ook zwaar fysiek werk. Het is mijn job weet je wel, mijn enige bezigheid... Of ik "verkoop"? Zoals ik zei, het is al meer dan 22 jaar mijn beroep ...  Nee, mijn vrouw, die is ook kunstenares, die is nog minder commercieel dan ik. 
Ja, ok, bedankt, neen, niet erg, tot een volgende keer, ciao, geniet van de vakantie ...