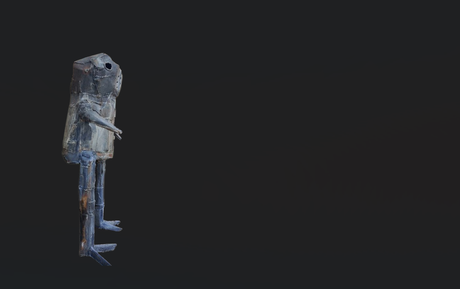 Lament:
People don't realize how difficult it is to be an independent artist (in the poorest region of France). People think about artists: they have good times, they have a nice life, doing what they love ...
but they don't realize that this beautiful life also comes with EXTRA costs.
For most people, the same amount is in their account at the end of the month. For artists, that is NEVER the case. Often, there is NOTHING in the account. Usually, we fill the empty wells by occasionally having a good month.
But we, too, have families to support, cars, vans, trailers, machinery, a welding post, a plasma cutter, smoke extractor, air compressor, grinders, etc., etc., a studio, material costs, exhibitions we have to drive to, sometimes having to stay at a hotel/restaurant for that reason (artists have fun), tolls, fuel...
When we are fortunate enough to be selected (to exhibit somewhere), we pay 30 to 50% commission on sales (IF THERE ARE ANY) to the gallery or organization.
People really don't understand what it's like to have been an independent artist for 25 years (in the poorest region of France), supporting a family of 4.
Yes, we eat organic and vegan, that's still allowed, I hope!?
I'm not a salesperson, in the sense that I will NEVER push a sale.
At my last exhibition, during the opening, I spoke. I said: I've done more than 300 exhibitions. I have 15 monumental sculptures in public places in different countries.
Every visitor has always been able to enjoy my art for free.
When I go to a performance, after it ends, a hat goes around... Everyone puts some spare change in there as appreciation and support for the artists. That way, the musicians can cover their gasoline costs and some of their time.
I have 20,000 hours of work unpaid. There was never "a hat" either.
I suggest that those who still attend an exhibition (by an "ordinary" artist) put something in his or her hat or ask where the hat is.
The well-intentioned "bravo, keep on going," doesn't feed us.
I love nothing more than making art, but in recent years, I spend less and less time in my studio. I simply don't see the point anymore.
Regrettable, but that's how it is.
My bucket is full (or empty).
In my last 5 exhibitions, I had to deal with "situations." Let me tell you one here: a man comes to my "show". Asks the price of three sculptures (while the price is already displayed). I say, "there's a huge difference between that one and that one, everyone can see it." So he chooses a cheaper version. About 400 euros. "I'll give you 300," he says, to which I replied, "why would I give you a 25% discount?" (A looooooot of people try to haggle, a looooooooooot).
I find out who he is, he owns a restaurant, a café, and a little shop in the village. There's also a concert in the village this evening where I will be going to. But, he clearly wants to play. Since artists have fun, I say, "listen, I'll let you have the sculpture for 375 and come with 7 people this evening for a free beer at your bar."
Again, artists have fun, I've heard.
That evening, I go to the bar, we are only 2 of us, not 7. The owner ignores me for 10 minutes. Okay, I see him making pizza, serving people, etc., until I say, "hey Jérome, the artwork is here, right?" He take a cigarette break and asks me, "are you in a hurry?" What a strange question is that!?
I've long realized he's a bit of a joker, he's wearing a T-shirt that says, "Moi, je m'en fou" (I, I don't care). A 60-year-old man!
"What do you mean, am I in a hurry? I'm going to the concert nearby shortly, so yes, I'll come to settle as agreed."
To which he responds, "I, I'm not in a hurry"...
"Um, excuse me, Jérome!?"
"I, I'm not in a hurry," he repeats.
Well, you have to understand that I've encountered enough nonsense and jokers not to play along in that game. I took my sculpture and left.
5 seconds later, I went back inside to say, "you know what Jérome, I even care less".
Jesus, what a small boy, pffff.
I went to my 7 friends and asked, "what are you drinking, it's on me, so we can have some fun here."
Anyway, the end of THIS lament.
Thanks to those who, upon reading this, toss something into the HAT -> paypal @ davidvanorbeek@gmail.com
---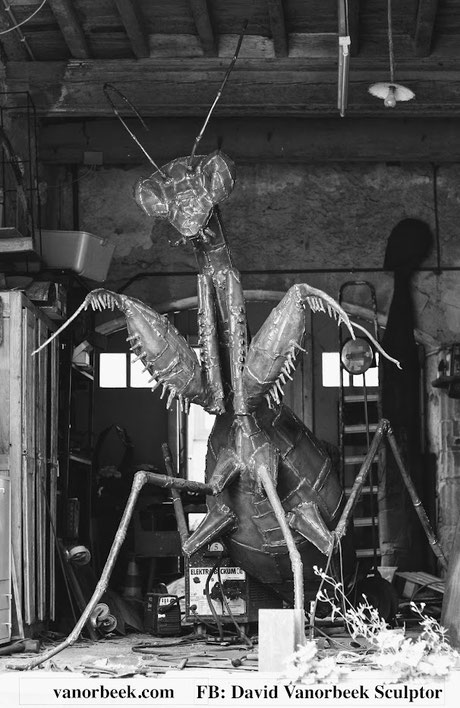 Chant de lamentation :
Les gens ne se rendent pas compte à quel point il est difficile d'être un artiste indépendant (dans la région la plus pauvre de France).
Les gens pensent des artistes : ils s'amusent, ils ont une belle vie, ... mais ils ne se rendent pas compte que cette belle vie implique également des COÛTS SUPPLÉMENTAIRES.
Pour la plupart des gens, le même montant est sur leur compte en banque à la fin du mois. Pour les artistes, CE N'EST JAMAIS le cas.
Souvent, il n'y a même RIEN sur le compte. Habituellement, nous comblons les vides en ayant de temps en temps un bon mois.
Mais, nous aussi avons des familles à soutenir, des voitures, des camionnettes, des remorques, des machines, un poste à souder, une découpeuse au plasma, extracteur de fumée, compresseur d'air, des meuleuses, etc, etc, un atelier, des frais de matériel, des expositions auxquelles nous devons nous rendre, parfois à l'hôtel / au restaurant (les artistes s'amusent), péages, gasoil, ...
Lorsque nous avons la "chance" d'être sélectionnés (pour exposer quelque part), nous payons, en cas de vente (S'IL Y EN A UNE), 30 à 50 % de commission à la galerie ou à l'organisation.
Les gens ne se rendent vraiment pas compte de ce que cela implique d'être un artiste indépendant depuis 25 ans (dans la région la plus pauvre de France), en ayant soutenu une famille de 4 personnes.
Oui, nous mangeons biologique et végétalien, j'espère que cela ne pose pas de problème !?
Je ne suis pas un vendeur, dans le sens où je ne pousserai JAMAIS une vente.
Lors de ma dernière exposition, j'ai pris la parole. J'ai dit : j'ai fait plus de 300 expositions. J'ai 15 sculptures monumentales sur des places publiques, dans différents pays. Chaque visiteur a toujours pu profiter gratuitement de mon art.
Quand je vais à un spectacle/ concert, une collecte est organisée après... Chacun met quelques pièces dans le chapeau pour apprécier et soutenir les artistes. De cette manière, les musiciens peuvent rembourser leur essence et une partie de leur temps.
Pour ma part, j'ai accumulé 20 000 heures de travail jamais payées.
Je n'ai jamais posé un chapeau nullepart. Je suggère que ceux qui visitent encore une exposition (d'un "simple" artiste) déposent quelque chose dans le chapeau ou demandent où il se trouve.
Le aimable "bravo, bonne continuations", nous ne mangeons rien de ça.
Je n'aime rien de plus que de créer de l'art, mais ces dernières années, je passe de moins en moins de temps dans mon atelier. Je ne vois tout simplement plus l'intérêt.
C'est regrettable, mais c'est comme ça.
Mon seau est plein (ou vide).
Mes 5 dernières expositions ont été accompagnées de "situations".
J'en raconte une ici : un homme vient sur mon stand. Il demande le prix de trois sculptures (alors que le prix est déjà affiché).
Je dis: "entre celle-ci et celle-là, il y a une très grande différence, tout le monde le voit". Alors il choisit la version la moins chère. 400 euros. "Je vous donne 300", dit-il.
Je réplique : "pourquoi devrais-je vous faire 25 % de réduction ?" (Beaucoup de gens essaient de marchander, beaaaaaaaaucoup).
Il possède un restaurant, un café et un magasin dans le village. Le soir, Il y a aussi une fête au village, un concert.
Bon, il veut clairement jouer. Étant donné que les artistes s'amusent, je dis : "écoutez, je vous laisse la sculpture à 375 et je viens ce soir avec 7 personnes boire une bière gratuite dans votre café".
Encore une fois, on dit que les artistes s'amusent.
Ce soir-là, je vais au bar, nous ne sommes que 2, pas 7. Cet homme m'ignore pendant 10 minutes. D'accord, je le vois préparer des pizzas, servir les gens, etc., jusqu'à ce que je dise "hé Jérome, la sculpture est là!".
Il demande : "êtes-vous pressé ?".
Il est "en pauze clope" !!!
Quelle question étrange ! Bien sûr, j'ai compris depuis un moment que c'est un peu un blagueur, il porte d'ailleurs un T-shirt où il est écrit : "Moi, je m'en fou". Un homme de 60 ans !
"Comment ça, si je suis pressé ? Je vais tout de suite au concert là-bas, oui, donc, je viens conclure; comme c'est convenu cette après-midi". À quoi il répond : "moi, je ne suis pas pressé" ...
"Eum, excusez-moi Jérome !?", "moi, je ne suis pas pressé", répète-t-il.
Bon, vous devez comprendre que j'ai rencontré déjà assez de bêtises et de mauvaises fois pour ne pas participer à ce jeu. J'ai pris ma sculpture et je suis sorti. 5 secondes plus tard, je suis revenu pour dire : "tu devrais savoir une chose, Jérome, MOI, je m'en fou encore plus que toi".
Quel petit garçon, pffff.
Je suis allé vers mes 7 amis et j'ai demandé : "que buvez-vous, c'est ma tournée, qu'on s'amuse un peu"
Enfin, fin de CE chant de lamentation.
 Merci à ceux qui après m'avoir lu jetént quelque chose dans le chapeau -> paypal @ davidvanorbeek@gmail.com
---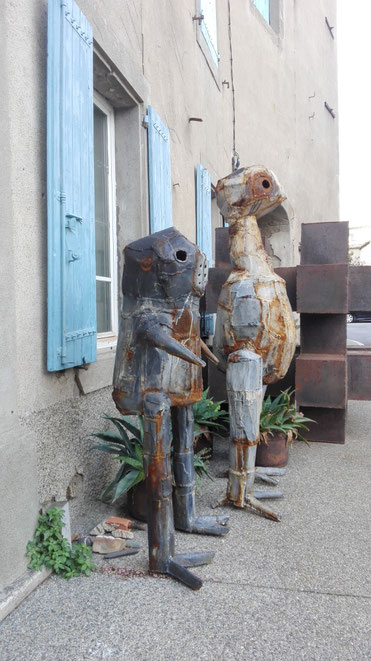 Klaaglied:
mensen beseffen niet hoe moeilijk het is om zelfstandig kunstenaar te zijn (in de armste streek van Frankrijk). Mensen denken over kunstenaars: die amuseren zich, die hebben een mooi leven, ... maar ze beseffen niet dat dat mooie leven evengoed EXTRA kosten met zich meedraagt.
Bij de meeste mensen staat op het einde van de maand hetzelfde bedrag op hun rekening. Bij kunstenaars is dat NOOIT het geval. Dikwijls staat er zelfs NIETS op de rekening. Meestal vullen wij de lege putten door af en toe een goede maand te hebben.
Maar, ook wij hebben families te onderhouden, auto's, camionettes, remorquen, machines, een laspost, een plasmasnijder, rookextracteur, aircompressor, slijpmachines, etc, etc, een atelier, materiaalkosten, tentoonstellingen waar we naartoe moeten rijden, soms op hotel/ restaurant moéten gaan om die reden (kunstenaars amuseren zich), peages, gasoil, ...
Wanneer we al het "geluk" hebben geselecteerd te worden (om ergens te mogen tentoon stellen), betalen we bij verkoop (ALS DIE ER AL IS) 30 tot 50 % commissie aan de gallerij of organisatie.
Mensen beseffen echt niet wat het is om al 25 jaar zelfstandig kunstenaar te zijn (in de armste streek van Frankrijk), een gezin van 4 te hebben onderhouden.
Wij eten biogisch en vegan, dat mag hoop ik toch nog!?
Ik ben geen verkoper, in de zin dat ik NOOIT een verkoop zal puchen.
Bij mijn laatste tentoonstelling heb ik tijdens de vernissage het woord genomen. Ik zei: ik heb meer dan 300 tentoonstellingen gedaan. Ik heb 15 monumentale beelden staan op openbare plaatsen, in verschillende landen.
Iedere bezoeker heeft altijd gratis van mijn kunst kunnen genieten.
Wanneer ik naar een optreden ga, dan gaat daar -na afloop- een hoed rond ... Iedereen legt daar ter appreciatie en steun aan de kunstenaars wat kleingeld in. Op die manier kunnen de muzikanten hun benzine en wat van hun tijd terug-betalen.
Zelf heb ik 20.000 werkuren staan die nooit zijn betaald. Ook nooit was er "een hoed".
Ik stel voor dat diegenen die nog een tentoonstelling bezoeken (van een "gewone" kunstenaar) dat ze iets in diens of haar hoed leggen of vragen waar de hoed is.
De welbedoelde "bravo, doe zo voort", daar eten wij niks van.
Ik doe niets liever dan kunst maken, maar de laatste jaren zit ik hoe langer, hoe minder in mijn atelier. Ik zie simpelweg de zin er niet meer van in.
Spijtig, maar zo is het.
Mijn emmer is vol (of leeg).
Mijn 5 laaste tentoonstellingen heb ik te maken gehad met "toestanden". Ik vertel er hier één: een man komt op mijn stand. Vraagt de prijs van drie beelden (terwijl de prijs er sowieso op staat). Ik zeg, "ja, tussen die en die is een heel groot verschil, dat ziet iedereen". Dus hij kiest een goedkopere versie. Iets van 400 euro. "Ik geef 300 zegt hij", waarop ik "waarom zou ik u 25% geven?" (Heeeeeeeeel veeeeeeeeel mensen proberen af te pingelen, heeeeeeeeeel veeeeeeeeeel).
Ik kom te weten wie hij is, hij heeft een restaurant, een café, en een winkeltje in het dorp. Er is ook feest in het dorp, optredens. Bon, hij wil duidelijk spelen. Aangezien kunstenaars zich amuseren zeg ik: "luister, ik laat je het beeld aan 375 en kom deze avond met 7 mensen een gratis bier drinken bij jou in je café".
Nogmaals, kunstenaars amuseren zich, heb ik horen zeggen.
Die avond ga ik naar de bar, we zijn maar met 2, niet met 7. Die man negeert mijn gedurende 10 minuten. Oké, ik zie hem pizza maken, mensen serveren etc, tot ik zeg "hey Jérome, het kunstwerk is er hé". Hij vraagt: "ben je gehaast?". Wat een vreemde vraag! Ik heb natuurlijk al lang door dat het een beetje een flauweplezante is, hij draagt trouwens een T-shirt waarop staat: "Moi, je m'en fou" (Mij kan het niet schelen). Een man van 60 jaar! "hoezo, of ik gehaast ben, ik ga zo dadelijk naar het optreden hier wat verder, dus ja, ik kom zoals afgesproken afrekenen". Waarop hij: "ik, ik  ben niet gehaast" ...
"Eum, excuseer Jérome!?",
"ik, ik  ben niet gehaast" zeg hij opnieuw.
Bon, je moet begrijpen dat ik al genoeg zever en zeveraars ben tegengekomen om niet ook nog eens in dat spelletje mee te gaan. Ik heb mijn sculpture gepakt en ben buiten gegaan. 5 seconden later ben ik even terug binnen gegaan om te zeggen: "weet je wat Jérome, mij kan het nog MEER "niet schelen" 
What a small boy, pffff.
Ik ben naar mijn 7 vrienden gegaan en heb gevraagd: "wat drinken jullie, ik trakteer, opdat we ons hier een beetje gaan amuseren"
Soit, einde van DIT klaaglied
Met dank aan diegenen die bij dit lezen iets in de HOED werpen ->  paypal @ davidvanorbeek@gmail.com
---
---